99.3% Reviewers Recommends Buy 3 Or More.
🔥We Have Very Limited Quantities At This Lowest Price!! 
Amphibious Protection:This shoe was designed for both water use and dry land. The rubber outsole can protects feet from sharp things like rocks, gravel, shells and from being burned by hot sand or boardwalk.The non-slip stripe on the soles can provides superior grip even on slippery surfaces.
Lightweight & Flexible:It makes you feel like wearing socks.This flexibility allows you plenty the freedom of movement.The lace-free design lets you slip them on and be ready to go in mere seconds;perfect for a go-getter personality!
The Most Comfortable Vacation Shoes
At under 100 grams, Aqua Socks are so light you'll forget you're wearing them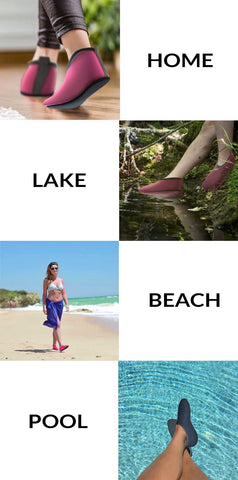 Breathability & Comfort:Soft and elastic spandex upper can dry quickly and fit snugly to your feet to give you that comfortable tight feel overall.The smooth elastic neck prevents chafing and keeps the shoe from slipping off during exercise.
    Occasion:River,Pool,Lake,Surf,Rafting,Tubing,Windsurfing,Boating,Kayaking,Snorkeling,Sailing,Creek trip,Water park,Sand volleyball,Water aerobics,Travel,Camping,Canoeing,Wake-boarding,Fishing,Gardening,Home,Yoga,Lawn,Outdoor,Walking dog
SIZE CHART
(We have adjusted the size chart based on customer reviews and feedback, so please purchase the size you usually wear. )